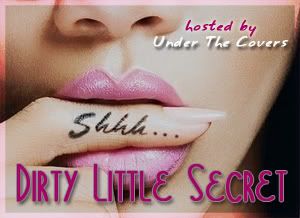 Dirty Little Secret
is a weekly meme hosted by us at Under the Covers. Every Thursday we get to know other bloggers and our readers more intimately by asking them a question hoping to reveal their dirty little secrets. We hope that you will all join us!
To participate in the meme all you need to do is:
1. Be a follower of Under the Covers.
2. Create a post in your blog taking the meme image (code above) and copy instructions.
3. Answer the question we propose! This can be done in any way you like, post a video, write a post etc.
4. Then add your link below.
Non-bloggers: We want to hear from you as well!!! Let us know your answer in the comments!
We hope you join us and let us know your
Dirty Little Secrets!
This week's question:
If you had 600 million dollars to spend,
what would be the first thing you bought?
Well seeing as I kind of reversed my car and hit the door of a beer truck that was parked behind me today. I guess I'd take that $600 and pay for the damages to my rear end. I mean the rear end of my (Dad's) car. I've had my license for almost a year now. I'm not the greatest driver(I'm rude, run red lights(cuz I'm daydreaming) and rude) and I always new this day would come. I've been consumed by
guilt
and
guilt
eating, and watching Charmed to get rid of the
guilt
. I'm a
moron
, I'm a
moron.
I'm sorry BEER truck.