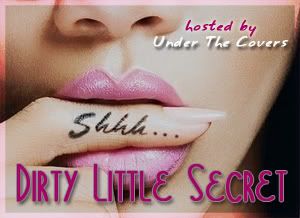 Dirty Little Secret
is a weekly meme hosted by us at Under the Covers. Every Thursday we get to know other bloggers and our readers more intimately by asking them a question hoping to reveal their dirty little secrets. We hope that you will all join us!
To participate in the meme all you need to do is:
1. Be a follower of Under the Covers.
2. Create a post in your blog taking the meme image (code above) and copy instructions.
3. Answer the question we propose! This can be done in any way you like, post a video, write a post etc.
4. Then add your link below.
Non-bloggers: We want to hear from you as well!!! Let us know your answer in the comments!
We hope you join us and let us know your
Dirty Little Secrets!
This week's question:
What are your top 3 movies?
My favorite movie is "Armageddon"!!
That's what pops into my head at this question ,even trying to come up with 2 more movies is difficult. Although I do have other movies : like Transformers "left cheek! left cheek! left cheek!! or She's The Man~ "I Like Cheese", I just do and Duke :D
Armageddon's my favorite movie because it has an amazing cast, great dialogue and humor. and a lot of shit gets blown up in this movie. and of course Airosmith ,the soundtrack is awesome.This is the best movie ever.
I loved the scene where Steve Buscemi got space dementia and was riding the nuclear warhead. It's understandable isn't it?, who wouldn't want to feel such power between their legs before they DIE in SPACE.
So yeah that's my top 3, well actually my number uno <3